Now is the Time to Trap the Queen
Wasps are nothing new. They're a nuisance, they're aggressive, and in the case of allergies, can be deadly. So do yourself and loved ones a favor and use these tips to keep the Wasp swarms at bay this summer.
1. Trap the Queen in the Spring
Understanding the behavior of wasps is crucial to keeping their numbers down. During the winter, the Queen is protected in a sheltered space. But in the early Spring, it's finally warm enough for her to venture out. It's in this time that she is looking for a new site for her nest.
Using a Wasp trap can be an incredibly effective and eco-friendly way to prevent major issues all summer. If you trap the Queen early enough, you'll stop an entire nest from starting. But don't worry, these traps use pheromones, so they won't hurt our Bee friends at all!
2. Soap & Water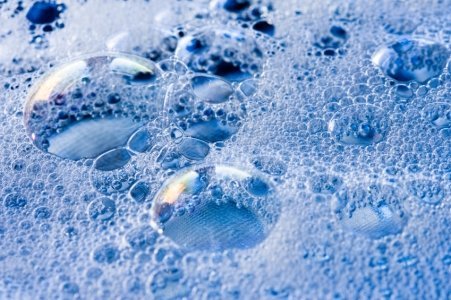 Another eco-friendly option for Wasp management is good ol' soap and water. Some wasp removal experts say that you can handle small hanging nests with a bit of soapy water. Mix 2 tablespoons of dish soap in a spray bottle and fill with water. The soap will clog their spiracles, the pores that they breathe through, and will kill them almost immediately.
3. Use a Decoy Nest
With all the bad buzz that Wasps get, they actually do have a very important role in the eco-system. They are predatory insects, and they feed on pests like aphids, caterpillars, and even West Nile carrying mosquitos. So if you'd like to try to scare them away before you take more extreme measures, try this Decoy Hornet's Nest.
It acts basically like a scarecrow, telling the Wasps that a whole nest of their natural predators are near. Many people swear by these; however, they are more to prevent a Wasp nest from forming. If you already have Wasp nests, you will have to remove them first.
4. As a Last Resort, Use Wasp Spray
Wasp spray is often the tool most turned to when you already have a booming Wasp issue. If you choose to go this route, try to go with an eco-friendly option like EcoSmart Wasp & Hornet Killer. Make sure to spray the nests at sunrise or sunset, when they are less active. Soak the nest and try to spray as many insects out as you can, and make sure you have enough spray to finish the job the first time.
What are some other techniques that you've found to effectively curb a Wasp infestation?
Dracaena Fun Facts
Fun Fact #1: The origin of this plant's name means "Female Dragon"
The name Dracaena comes from the Greek word drakaina, which means female dragon. The Dracaena contains a resin in the stem, which was compared to dragons blood due to the red gum-like quality. For many centuries, this was used for dyes, medicine, and even toothpaste. However, we mostly only use it for varnish and photoengraving today.
Fun Fact #2: Dracaena is related to the Asparagus family
Though the displayed traits may be very different from this favorite summertime veggie, they are indeed under the Family Asparagaceae. The Genus Dracaena is made up of about 40 different species, the most popular being "Song of India."
Fun Fact #3: Dracaena is toxic to cats & dogs
This one may not be as fun as the other facts, but important nevertheless.
If eaten, cats and dogs have vomiting, overproduction of saliva, and lack of appetite. Cats may also may have dilated pupils. Make sure you keep your fluffy friends in mind while choosing houseplants, and if you just can't live without the Dracaena, please make sure you are educated and cautious.
How to Have a Fresh Veggie, Fruit, and Herb Garden in Small Spaces
Imagine this. You walk outside on a warm June evening, the smell of fresh cut Grass fills your senses. You glide over to your abundant garden, full of Lettuce, Tomatoes, and Summer Squash. You pick a few Cherry Tomatoes, and pop them into your mouth. The sweet satisfaction of a hard summers work finally pays off.
You open your eyes, realize you live in a rented 2nd story apartment with no yard, and feel defeated. Will your garden only grow in your dreams?
With the rental movement on the rise, and housing becoming more restrictive, it can be difficult to find the proper space to plant anything. But as Jurassic Park has taught us, life finds a way. Whether you have a small studio apartment, an HOA, or simply want a beautiful garden with minimal maintenance, we have a few ideas to turn your gardening dreams into reality.
Pot it Up
Who says you need to have a plot of land to have a gorgeous garden?
Many herbs as well as Lettuce and Spinach can be grown indoors successfully. Be sure to talk to your local garden store for specifics.
This not only allows you to grow your favorite veggies wherever you'd like, but also to add fun visual interest to your humble abode.
2 birds, 1 stone. Love it.
DIY Compact Your Compost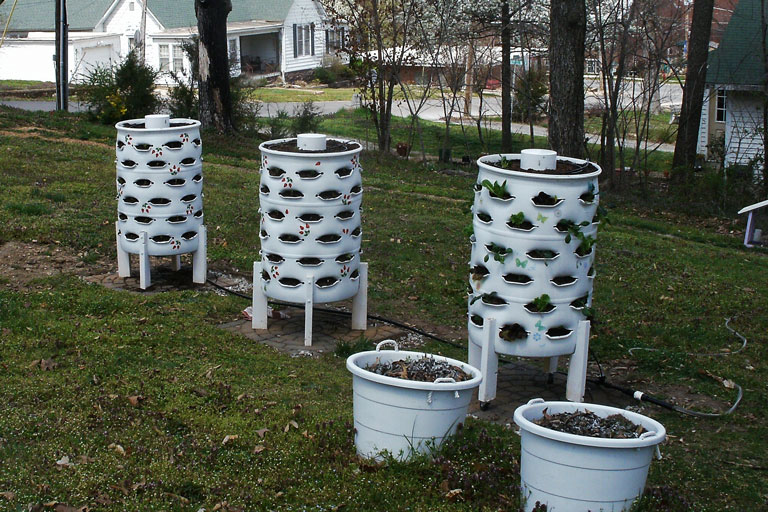 Speaking of 2 birds with 1 stone, check out this multi-functioning beauty. If you're anything like me, you don't want to throw food into the trash, only for it to sit in the landfill and never decompose. And, if you're anything like me, you don't have space for a heap of compost in your yard, or kitchen— or really anywhere. Introducing the DIY Garden Tower! Quiet Corner, a resource for making life easier, published this awesome tutorial on how to make you're own Compost/Garden Tower. You can put kitchen scraps and worms in the center compost pipe to feed and grow up to 45 healthy, nutritious plants in the outer pockets. Who's up for this DIY project this weekend?!
Raise it Up
If you happen to have a yard, even if it's small:
A. I'm jealous
B. You can have an amazing outdoor garden in a raised garden bed!
Not only is this a space saver, it's a relatively easy way to implement edible landscaping without using heavy rototillers, moving rock, or digging at all. Build your raised bed up to waist level if you can, your back and knees will thank you later!
What are some of the ways you've innovated you're gardening tactics?
Arbor Day: A Little History
"Each generation takes the Earth as trustees."—J. Sterling Morton
We all know Arbor Day as a day to plant, celebrate, and talk about trees. But how did this holiday begin? What some may associate with more modern environmental causes, the history of Arbor Day actually takes roots all the way back in 1872, and of all places, in Nebraska.
J. Sterling Morton was a pioneer, settling in Nebraska, and a strong advocate for trees. He recognized the need for trees in the Plains not simply to please the eye, but for windbreak, keeping soil in place, providing building materials and fuel, and of course, giving shade from the Mid-West sun.  He used his position as a journalist to advocate tree planting in his articles and editorials, and when he became Secretary of the Nebraska Territory, he utilized his platform to further encourage the value of trees.
In January 1872, Morton proposed Arbor Day, a tree-planting holiday, to the meeting of the State Board of Agriculture. They agreed and set the date on April 10, 1872. More than one million trees were planted in Nebraska on that day, with prizes going to the counties and individuals who planted the largest number of trees (properly of course).
Arbor Day was officially named a legal holiday in Nebraska in 1885. It was to be observed on April 22 in honor of J. Sterling Morton's birthday.  Today, many states observe Arbor Day on the last Friday of April, but some observe the day depending on the best weather to plant trees. Whether you plant in January and February in the South US or in May in the Northern States, Arbor Day is certainly a day worth celebrating. For the best time to plant a tree was twenty years ago. The second best time is now. —Chinese Proverb
This article was written with information from www.arborday.org/celebrate/documents/history.pdf.
20% OFF!
Dahlia
Decorative
Dinnerplate
Cactus
Waterlily
Anemone Flower
Purple
Gladiolus
Lily
Double Oriental
Oriental
Asiatic
Lily of the Valley
Lily of the Valley
Freesia Single
Babiana Stricta
Sandersonia Aurantiaca
Tricyrtis
Freesia Single
Babiana Stricta
Sandersonia Aurantiaca
Tricyrtis
Edible Gardens: How to Make Rose Syrup
The Perfect Addition to Your Tea, Coffee, or Cocktail
Floral syrups seem to be everywhere these days; and for good reason! Flowers such as rose, lavender, and tulip add a new dimension to a dish or drink; you can add it to anything from pancakes to salads to cocktails. Edible flowers also have stellar amounts of Vitamin C; no wonder Cleopatra used to bathe in roses and milk (allegedly). But you don't have to be royalty to enjoy everything that edible flowers have to offer. Here's a fun recipe for Rose Simple Syrup that we think is fit for a queen!
Ingredients
6 cups Unsprayed Rose Petals from a deep red scented rose; we suggest the Mister Lincoln variety (Pre-order for Summer 2019 at Bath Garden Center)
12 cups of water
12 cups of raw evaporated cane sugar
6 TBSP fresh lemon juice (optional)
Makes about 15 cups of Rose Simple Syrup
Instructions
Rinse the petals thoroughly. Chop petals (by hand or in a food processor). In a large stock pot, bring the sugar, water and chopped rose petals to a boil, stirring occasionally. Reduce heat and let simmer for about 15 minutes. Remove the pan from the heat and let sit for a 1-2 hours. This gives time for the rose fragrance to infuse thoroughly.
Place a double layered cheesecloth or muslin over a large bowl or another stock pot (we suggest having a helper or tying a band around to make sure the cloth stays taught while you pour). Pour the mixture over the cheesecloth, making sure to strain all of the petals out. Let sit for about 30 minutes to allow all of the syrup to pass through.
Stir in the optional lemon juice; this will turn the syrup into a bright and vibrant red! Pour into a bottle or mason jar with a lid and refrigerate up to a year or freeze until ready to use. Enjoy!
Pansy and Alyssum Arrangements We Love
Pansies and Alyssum are perfect Spring flowers. They are fairly hardy (keep above freezing!), display a variety of colors and patterns, and will make the entire space smell amazing. Here are some of our favorite ways to arrange Pansies and Alyssum together, whatever your style!
Use a basket as a planter.
A tried and true method, you can't go wrong with potted Pansies and Alyssum. Try this fun French Country style basket.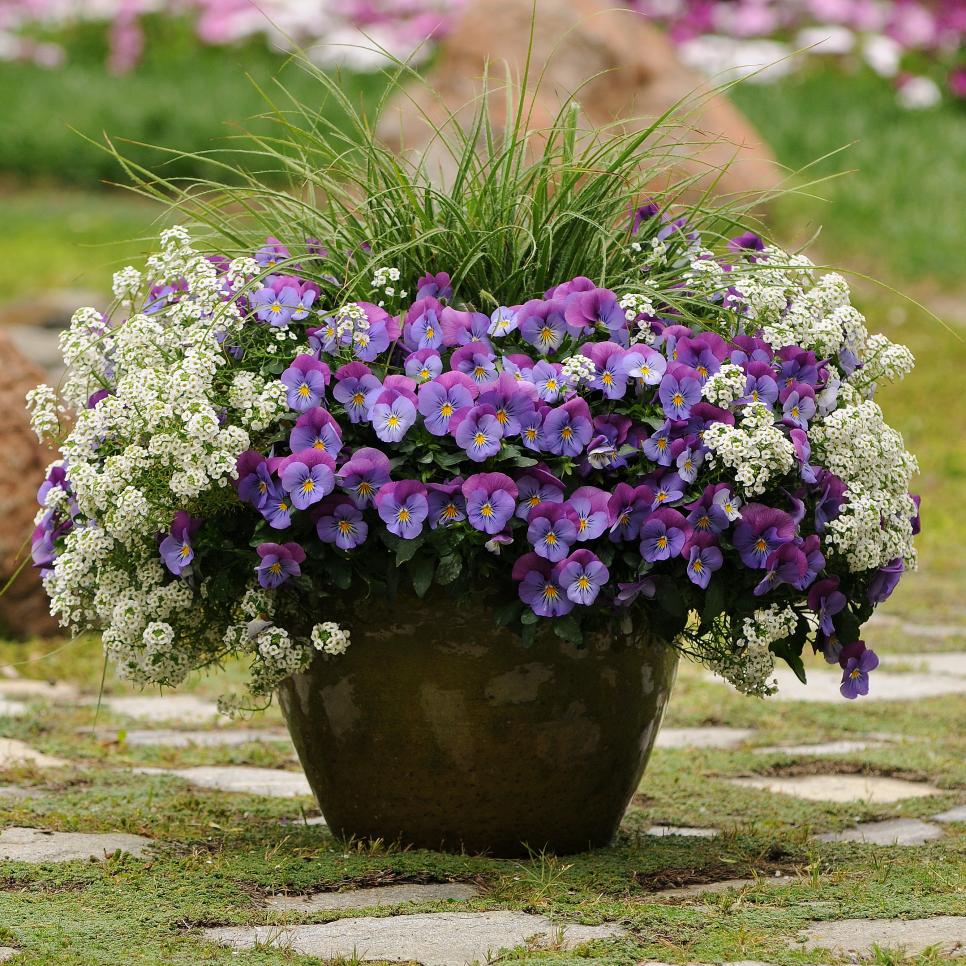 Keep it Classic.
Or add interest with a classic glazed outdoor planter using a Spike to add height and flowing Pansies and Alyssum for movement.
Stay Simple.
Sometimes less is more. Keep things simple and fresh with a warm clay pot and small bunch of Alyssum.
Get funky.
If you love thrift store shopping, you'll love this. Use an old steel or copper tea pot, gravy dish, or flowering can for a pot. This technique adds a lot of character for a fun Shabby Chic look.
Hang it up.
Pansies and Alyssum add a special flow to any hanging basket. Hang them anywhere, including right on your front porch. You'll delight your guests and family by creating a clean, warm space from the time they enter the door.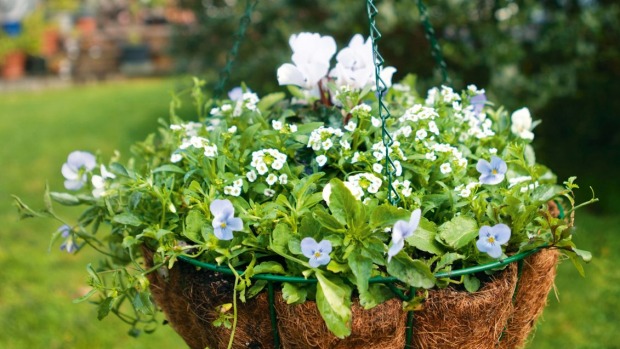 What are your favorite ways to arrange these beautiful Spring flowers?
Love, Bath Garden Center
Spring Frost & Freeze Warning!
Call (970) 484-5022 or email smaes@bathgardencenter.com if you have any questions about protecting your plants.
TEMPERATURES AS LOW AS 22°F for the next 4 days
Blizzard Warning April 10th-April 11th
PREPARE FOR THE COLD!
Frost cloth is best for any seedlings coming up or annuals you might have planted. We have frost cloth available!
Bring potted plants indoors to protect from cold and heavy snows.
SPRINKLER & HOME PREPARATION
REMOVE garden hoses from outdoor faucets just to be safe
SHUT OFF your indoor water valve that is connected to your sprinkler system. Wrap your vacuum breaker/back flow device in a heavy blanket to keep it warm. Put a trash bag over the blanket to keep it dry. This will
help protect your sprinkler system in a short cold snap.
Bromeliad Fun Facts
Fun Fact #1: Bromeliads are related to Pineapples.
The pineapple is the edible Bromeliad. Known as Ananas comosus in the scientific community, Pineapple grows under the ground, not in a tree, and has a fun leafy top. They perform best in tropical climates, but make for pretty durable houseplants as well.
Fun Fact #2: Bromeliads have pups.
Bromeliads typically only have one bloom. After that, it forms offsets, known as pups, which are exact replicas of the mother. Those pups will then produce gorgeous blooms, and so on.
Fun Fact # 3: There are over 2000 species of Bromeliads
And many can be grown indoors with success. The Puya raimondii (native to the Andes) can produce a flowering stem up to 15 feet tall, while the tank variety called Aechmea has broad, bowl-shaped rosettes. There really is no limit to the variety a Bromeliad can bring.
Come to Bath Garden Center and get 20% off of this amazing plant ALL APRIL!
Love, Bath Garden Center
WHAT CAN A HANGING PLANT DO FOR YOUR HOME EXPERIENCE?
When we talk about houseplants and gardens, the images that come to mind are potted snake plants, rows of pansies, and succulents at your computer. But what about hanging plants?
An extremely powerful application of plant arrangement, hanging plants can do so much for whatever space you are wanting to enhance. Here are our top 3 favorite ways to include hanging plants in your home.
1. A Clay Pot in Macrame
The combination of a warm, clay pot in a Macrame hanger gives a space a warm, cozy feel. We suggest potting succulents, cacti, and some of the Hoya varieties (like Shooting Star or Hindu rope).
2. Plants that Clean the Air
What's better than a plant that actually works for you? With the vinous elegance of plants like Pothos and Philodendron, or the fun and full spunk of Ferns, you can have a hanging piece of art that also purifies the air.
Hang them in your living room, kitchen, and especially bathroom for a boost in healthy air quality.
3. Hanging Glass Pots
A great way to make a space feel light and airy is adding in a hanging pot, glass or ceramic, or Air Plants. These pots fit many styles: modern, farmhouse, shabby chic, and really any where you want to feel a little more relaxed.
What ways do you use hanging plants + pots?
Love,
Bath Garden Center